This post explains how new members can complete their registration for Smart Club Cloud.
Accessing your Smart Club Cloud account is vital if you want to participate fully in club activities. You must be able to login to Smart Club Cloud in order to –
Book a court
Pay for floodlights
Enrol in coaching
Sign up for events
Manage your membership subscription
When you joined the club, you should have received an email with instructions to complete registration for Smart Club Cloud.
If you can't find the email, check your spam/junk folder and/or search for emails from admin@smartclubcloud.com.
If you still can't find the email, send an email to secretary@glenagearyltc.ie requesting your credentials for Smart Club Cloud and confirm the email address that you want to use for club communications.
You should receive two emails, the first one like this –
Make a note of your username. The current username convention is –
firstname.surname.membernum
but older usernames may be different – eg. firstnamesurname
Your member number appears on invoices, but would not always be known to you.
You will also receive a second email with your temporary password, like this –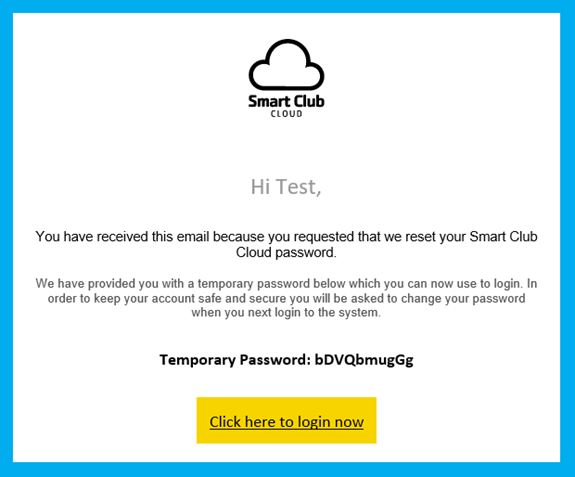 If you are tech-savvy and know how to copy and paste using shortcut keys, then do that – i.e. Double-click on the temporary password and press CTRL-C – this will make a copy of the password that you can later paste into the Login page.
Otherwise, you will have to take the tedious route and make a note of the password (mixed case).
Press the Complete Registration Now or Click here to login now button.
You will now be asked to login to your account –
Enter the username you were given – eg. test.case.4171
Either type the password you were given (in mixed case), or, if you had previously copied the password using CTRL-c, click on the Password box and press CTRL-v – this will paste the password into the box.
Press Login.
You will now be asked to set your own password –
Store the Username and Password safely!
Follow the instructions and press Set Password and you should reach the Smart Club Cloud Home page –
And now you're ready to go!
We will provide separate posts on how to book a court and other activities.